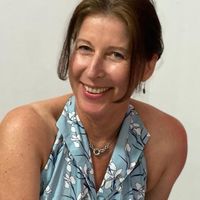 Tarrant Smith
Contemporary Romance, Paranormal Romance, Poetry
Far far away and in a time long ago, Tarrant Smith graduated from Queens College in North Carolina with a degree in English literature. She currently lives in the beautiful town of Madison, Georgia with her husband and two rescued stray cats who follow her around like familiars. As a kitchen witch, she has always sought out and nurtured the magick that can be found in the mundane trappings of everyday life. For more information about the author and her romance books please go to tarrantsmith.com

2020 Georgia Independent Author of the Year Award (Romance Catagory for The Love of Gods)

2021 Georgia Independent Author of the Year Finalist (Romance Catagory for The Dreams of Demons)

​​​​​​​"From cover to cover, Smith delivers insanely well-drawn characters and enough moments of levity to keep this paranormal romance moving along at a brisk pace. Never does Smith's work lack. As the author bounces from one subplot to the next and back, she keeps readers on their toes and deeply involved with each of the main characters and their tragic lives."

​​​​​​​"The entire cast of characters created by Smith is deserving of readers' adoration for that matter. Humor is a big part of Smith's writing and adds to the depth of her characters."​​​

The Love of Gods was awarded Literary Titan's Silver Book Award for June 2019
​​​​​​​The Fate of Wolves was awarded Literary Titan's Gold Book Award in December 2019
​​​​​​The Dreams of Demons was awarded Literary Titan's Silver Book Award in August 2020
The Souls of Witches was awarded Literary Titan's Siver book Award in February 2021
Bound Darkly was awarded Literary Titan's Gold Book Award for July 2019
Kept Darkly was awarded Literary Titan's Gold Book Award for August 2019
Surrendered Darkly was awarded Literary Titan's Gold Book Award for August 2019
Resurrected Darkly was awarded Literary Titan's Gold Book Award for August 2019
People come into your life and people leave it... you just have to trust that life has a road mapped out for you.
Orlando Bloom
A reader lives a thousand lives before he dies. A man who never reads lives only one.
George R.R. Martin
Good fiction makes the truth believable.
Tarrant Smith
Spellcraft is no more or less than a wish fulfilled
Tarrant Smith